Happy Friday!
Today, I am going to share a few of my favorite things to celebrate Friday!
First, these are my NEW favorite things I have discovered during this California trip.
Sprouts
: my new fav Whole Foods equivalent in Southern Cal
refreshing mint lemonade: I am researching a similar recipe to share :)
organic, multigrain snack chips flavored with green chiles, cheese, and lime (yum!)
These are the lazy, crazy, hazy days of summer at the cool pool!
My picture taking skills seem to be improving with practice...and good natural lighting (the sun)!
I adore these old fashioned Route 66 signs!
It reminds me of the song from the good ol' days :)
(Thankfully, I did not wreck the car trying to capture this picture while driving.)



Next, these are a few of my favorite FASHION things!



Summer Scarfing...
tribal scarf complete with little pink pom poms(!) at ends: Target (available
here
)
white boyfriend tee (v-neck): Target
Rock & Republic jeans:
Jean Therapy
(New Orleans)
R2 Beka white sandals: Famous Footwear (available
here
)
For my
FRIDAY FAVORITE
, I am featuring my new gold/cognac Steve Madden sandals!
Steve Madden Stacie gladiator sandal: DSW (available
here
in five colors)
I love the way these sandals look, feel, and smell (well, only because they're still new). :)
Can't wait to wear them to make an outfit GOLDen (phunny, I know)!
And finally...here are a few of my favorite people.
I love them more than anything in the world! :)
Brother, Dad, Mom, and Sooper <3
Happy Birthday David!
Thanks Lauren @
Warm & Fuzzy
for teaching me how to use the Phonto app for text on images.
I think I may have gone a little overboard due to my excitement over it!
She is very altruistic and always focused on helping others!
& Hayley @ The Weekend File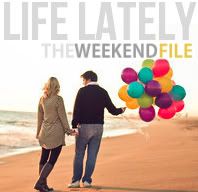 My Oyster Pearl of Wisdom (OPW) is to reach out to others in need and lend a helping hand. Sooper and I will be taking a trip to Chicago in a couple of weeks to accompany Jon and Alicia's daughter Jonnae for her soccer tournament. As her "surrogate parents", we will be there to support her and try to be as wonderful and caring as Jon and Alicia who are working and unable to make the trip!
Hooray for Friday!
The Tiny Librarian